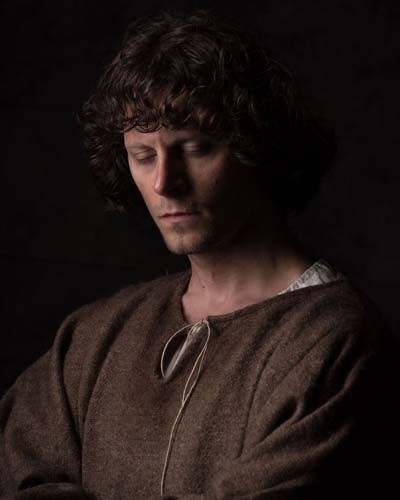 Francis of Assisi, (1181-1226 CE), who was canonized as a saint by the Catholic Church only two years after his death, is perhaps the best known medieval saint, among Catholics, Protestants, and people of other religions. He founded the Franciscan Order of friars, or monks, which still exists today. Francis also composed poems, letters, prayers, and testimonies to his spiritual experiences. He wrote documents to guide his followers, known as the Franciscan Rule. Francis' immediate followers also recorded his biography, and his life has been studied in every generation since.
Francis was born in 1181 or 1182, in Assisi, a town in modern Italy. His father was a wealthy cloth merchant, and his mother was a noblewoman. Francis grew up as a carefree, well-loved and popular boy whose father showered him with fine clothes and entertainment. He grew to be a chivalrous young noble. Like others of his class in Italy, he learned the military arts and engaged in the rivalries among local towns. During one such war between Assisi and neighboring Perugia, he was wounded and imprisoned for a year. After his release he suffered a long illness, perhaps caused by the misery of medieval imprisonment.
When he recovered, he resumed his military career, and set out finely equipped as a young noble to fight a war on the side of the Pope. His experiences on that journey, however, were milestones on a different path. He met a poor knight and gave him his fine equipment and clothing. He also had a dream that he saw his father's house glorified with signs of military and religious glory that would come to Francis and his family. He set forth in that spirit but became ill, and heard a voice telling him to end his journey in order "to serve the Master rather than the man."
Francis returned home and entered a period of spiritual transformation. He wandered in the woods and fields by himself, changing his attitude toward the riches and idle play that had captured his attention before. He searched instead for a new direction to his life, and began to discover a deep compassion toward other people and even creatures of the earth. He was riding in the countryside when he met a group of lepers (people with a contagious disease that wasted parts of the body). Such lepers were forced to live outside the towns and to avoid contact with healthy people. Francis overcame his fear and disgust at their condition and embraced the lepers, giving them money. He began to visit with the leper community and help them. His life had changed forever.
Francis then made a pilgrimage to Rome, where he gave all his money at the tomb of St. Peter and exchanged his own clothes with a beggar in order to experience poverty. As he was returning from Rome, he stopped in a small chapel near Assisi to pray, and had a vision of Jesus calling upon him to repair the poor little church called St. Damian. Following his vision, he went home and took some of his father's goods, sold them and took the money to the church. He asked the priest if he could stay in the church. The priest refused the money but let him stay. Francis' father came angrily looking for his son. Francis remained in the church praying and fasting, and then went to his father, who beat and imprisoned him at home. His mother set him free, and he became an object of ridicule in the town. His father demanded that he change and threatened to disinherit him, calling upon the Bishop of Assisi to back up his demands. Francis returned the money he had taken, then publicly took off his clothes and gave them to his father in a sign of separation from his worldly ways. At this, the bishop covered Francis with his own robe, as Francis declared, "From now on, I say only "Our Father who art in Heaven," (referring to the Lord's Prayer), and cut off ties with his father.
Francis then began to wear only a simple tunic and to walk on the roads in the area singing and praising God, seeking work and alms, and sometimes finding ridicule, other times friendly help from those who knew him. The priest of St. Damian's church let him stay and repair the church, asking for donations of building material, until, by1208, he had restored the church, then did the same for other abandoned churches in the area.
Gradually, his reputation for simplicity and selflessness began to attract followers instead of ridicule. Listening to a sermon in 1209 at one of those churches, he took to heart a passage in the Bible, Matthew 10:7-19, to take a vow of poverty and devote his life to preaching and compassionate work. He felt commanded to do so by Jesus himself. He made a vow of poverty, and in a simple woolen coat tied with a rope and without shoes, returned to Assisi and began preaching about the need to follow the path of God and to make peace among people. His preaching attracted several followers to whom he gave similar garments and let them join him in his vow of poverty and preaching. They became his brothers in the mission, and went to live with him at the chapel, working and establishing a way of life as brothers, or friars.
Francis wrote an outline of rules for his followers, and in 1210, the group went to Rome to seek permission to found an order of monks. Pope Innocent III was attracted to the ideals Francis set forth, but hesitated on the advice of others. Then the Pope dreamed he saw Francis propping up the roof of the Church, and approved the rule and mission of his order, with Francis as its leader. Back in his hometown, their preaching began to attract large crowds, and local Benedictine monks gave them a chapel and permission to build huts on its land. This was the first Franciscan monastery.
The Friars Minor, or Little Brothers, worked to earn their living, helped each other in their chosen poverty and took alms but not money. They aided the sick and lepers. About two years later, a noblewoman of eighteen years old asked to become a follower and took a vow of poverty and service. The Benedictines again offered her and some other women a place of sanctuary to live under the Franciscan Rule. The friars were often asked to broker peace among competing cities in their petty struggles in the central provinces of the Italian peninsula.
In 1212, Francis undertook a journey to the East to preach in Muslim lands, but suffered several setbacks before actually going there. The work of the Friars Minor in Europe continued to grow and attract followers, even as it became more difficult to keep to the simple message and example of Francis. Missions were sent to other countries of Europe as far as England and Germany. Francis sent friars to North Africa and Muslim regions of Spain. Francis finally traveled to Egypt and Syria with the Crusader forces, arriving in 1219 during the siege of Damietta. He was horrified by the carnage of the siege and its aftermath. He made efforts at peace and preached among the Christian soldiers and their leaders. He also daringly crossed the battle lines into the camp of the Ayyubid leader al-Malik al-Kamil. Accompanied by Brother Illuminato, he came before the Sultan, saying that he wanted to preach Christian Gospel to save the Sultan and his Muslim companions' souls. The Sultan received Francis graciously and allowed him to preach, since such conversations about religion at the courts of Muslim rulers were not uncommon. The two friars were offered gifts and rights to serve as guardians of certain places in the Holy Land, which Francis and his companions next visited.
When he returned to Italy, the changes to his movement under the leadership of his deputies caused Francis great dismay. They were falling short of the ideal of poverty, living in a fine new building, which Francis rejected. As the movement grew, its organization became more complex, and Francis asked to be removed as head of the order in 1220 to concentrate on his spiritual mission. In 1221, however, he wrote up a revised rule for the order, but was unable to reconcile the extreme demands of his radical way of life, and meet the needs of the growing order. Eventually, he agreed to allow the friars a less rigid vow of poverty.
In 1223, Francis presented a newly written rule to his followers and to Pope Honorius, which remains the basis of the Franciscan Order today. He also established a lay Third Order of followers who were not monks but lay (non-clergy) preachers and spiritual leaders in their communities. In that year at Christmas, Francis enacted the first live nativity scene at the village of Greccio to animate the spirit of Christ's life. It became a popular practice as it is today.
By June, 1224, Francis had become weak in body and retreated to a mountainous area, where a few of his closest followers tended to him in a hut. He meditated, prayed, and wrote praises, and his writings of that time show influence on his ideas of worship from what he saw at the Muslim court of al-Kamil, such as invoking the different attributes of God as Muslims do the 99 Names. He is said to have experienced a vision of Christ and an angel, after which the wounds of Christ, or stigmata, appeared on his body. He continued to preach in his frail state of health, and worried about the legacy of the Franciscans. He visited his female followers, Clare and her sister nuns and stayed for a month at their cloister. Going blind from an eye disease, he continued to write praises and guidance for his followers after his death, about the need to keep the mission of poverty, service, humility and love of God and fellow man.
In the spring of 1226, he returned to the place given to the Franciscans by the Benedictines, and lay in a hut there, where he dictated his Will, sent messages to his followers, and received visitors. As death approached, he asked to lie on the bare ground without clothes, to feel closeness to the earth and to submit to the sureness of death. He died on Saturday, October 3, 1226. His body was carried to the church of St. George in Assisi, and was later taken for re-burial in the Basilica that was begun in 1228, soon after the Catholic Church declared Francis a saint.
Sources: Moses, Paul. The Saint and the Sultan: The Crusades, Islam, and Francis of Assisi's Mission of Peace. New York: Doubleday Religion, 2009; "Saint Francis of Assisi | Italian Saint." Encyclopedia Britannica. https://www.britannica.com/biography/Saint-Francis-of-Assisi; "CATHOLIC ENCYCLOPEDIA: St. Francis of Assisi." Accessed November 28, 2017. http://www.newadvent.org/cathen/06221a.htm.