The Crusades were a series of expeditions conducted by European armies with the goal of acquiring access to or direct possession of the Holy Land on the eastern Mediterranean coast, especially the holy city of Jerusalem. From the First Crusade (1095) to the Fall of the city of Acre in 1291, military action resulted in significant exchanges in technology. Many of these technological innovations learned in the East were brought to Europe in some form. Among the most important changes were the construction and features of fortifications, armor and weapons used by knights, and the use of cavalry over foot soldiers. Military technology transfers with little resistance, because the defeated forces learn from the victors. Soldiers respect military prowess in their adversaries. These innovations affected tactics and armaments, and defensive structures.
Cavalry
Many of the crusaders arrived in the Holy Land on foot, as keeping a horse was beyond the reach of many knights. The armies that the crusaders confronted, however, were largely cavalry trained in the legacy of Turkic horsemen. While the early victories of the crusaders who set up the Latin states called Outremer were based on the element of surprise and lack of unity, over time, the opposing Muslim forces and the environment in the eastern Mediterranean required significant adaptations that in turn affected warfare in Europe as well.
Armor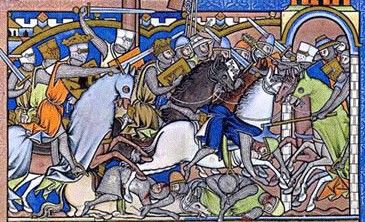 A crusader soldier of the First Crusade typically wore heavier armor consisting of a coat with metal scales attached, over a leather or cloth tunic. They carried heavy broadswords and lances suited to hand-to-hand combat or mounted heavy cavalry. This was poorly suited to the hot climate and movement through the desert. An early adaptation was the use of chain mail or ring mail, a shirt with long sleeves, hand protection, and a collar, with a padded tunic similar to that worn by soldiers in Muslim armies. A Crusader knight wore a helmet that was cone-shaped and mainly protected the face and head, attached by leather straps, and sometimes had a plate to cover the nose.
This basic helmet evolved into variations such as an iron cap with a brim, which would protect against falling objects, arrows, and the blinding sun. It was paired with a chain mail hood and cotton quilted cap. In contrast, a heavier helmet called the Great Helmet became typical of the Crusader cavalry. It had a flat (later rounded or peaked) top with eye slits and a perforated face visor, and might be decorated to distinguish its wearer and show off his wealth. Both types are shown in this image.1
Shields also changed from a large rectangular or kite-shaped one made of leather or wood reinforced with iron, which was suitable for broadsword combat on foot. Its successor, modeled on the Turkic horsemen's shields, was lighter, round or triangular, covering the upper body. Some examples are also seen in the image above.
Fortifications & Castles
Fortified cities were the norm in medieval times, and they were an important part of Crusader defenses. This was especially true for the Latin Crusader states, which were short on manpower, but could rely on labor from the surrounding area, or prisoners to construct walls. In the eastern Mediterranean, wood was scarce, but stone plentiful. Water scarcity made moats, which were common in Europe, impossible as protection,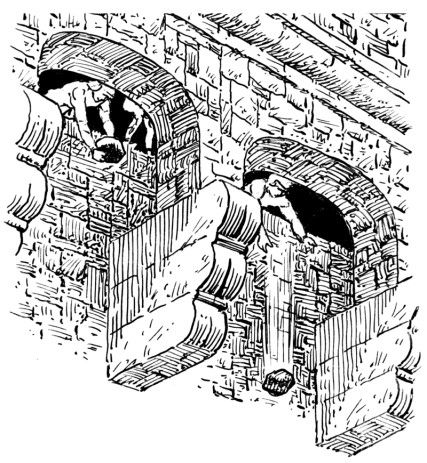 but trenches often surrounded them, or the walls were angled so as to prevent them from being scaled vertically. Curtain walls were an innovation as strong, steep walls that surrounded the inner structures of the city or castle. These were first seen in northern Syria and were widely imitated in Europe throughout the period. Atop the curtain walls were machicolations, protected structures that jutted out from the walls that allowed defenders to drop objects or liquids onto the besieging troops.2 Concealed or indirect entrances to the walls allowed troops to defend the entrances and also foray out to attack by surprise. These innovations in the eastern Mediterranean reflected the fact that cities were more numerous in the East than in medieval Europe at that time, and were in need of sophisticated defensive walls. They were widely copied. Other innovations, such as the arrow loop, are shown in the following illustrations as well as siege weapons and techniques used to attack cities and castles. These included siege towers and battering rams, among other inventions that took time to build, and required a lot of manpower.3
Arrow Slits
Arrow slits in castle walls were another important innovation during the Crusades period. Outside, an arrow slit presented a very small target on the thick castle walls. Inside, the slit was wider, and curved or angled to allow the archer to aim his bow and arrow in an arc of up to 120 degrees, while protected from enemy fire. This arrow slit on Kolossi Castle in Cyprus was in the crenellated upper walls (meaning notched with battlements). Most arrow slits were embedded in the solid, lower walls like the picture from Aljun Castle in Jordan.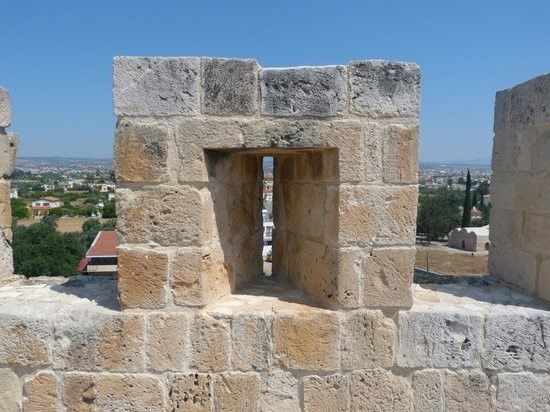 Image credits: This photo of Kolossi Castle is courtesy of TripAdvisor at https://media-cdn.tripadvisor.com/media/photo-s/03/f1/56/b1/kolossi-castle.jpg; Ajlun Castle, Jordan. http://hadhramouts.blogspot.com/2013/02/inside-ajloun-castle.html.
Grenades or Fire-pots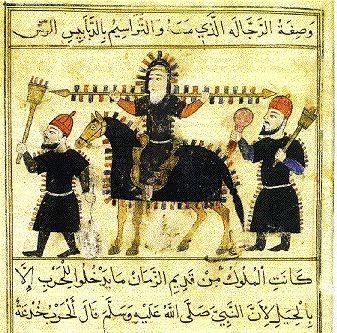 Grenades or fire-pots were based on a Byzantine development called Greek fire, which was used from the 8th century on. Like gunpowder, it's difficult to trace the path of this military technology across Asia and the Mediterranean. Its historical formula is not agreed upon, either, but it makes use of at least one type of incendiary (fire-causing) substance. Naphtha, a substance derived from naturally occurring hydrocarbons such as peat and crude petroleum, was one ingredient in Greek fire. Other ingredients were burning pitch, sulfur, resin, quicklime and bitumen (a tar-like substance). Earthenware pots from the Crusades period that were filled with incendiary material have been found in Egypt, Palestine, and Syria with traces of the material inside. They could be launched by hand, by catapult, or by rockets. Smaller ones could be launched by arrow.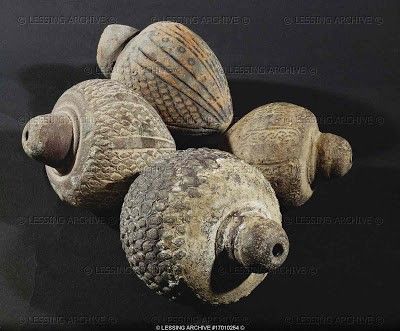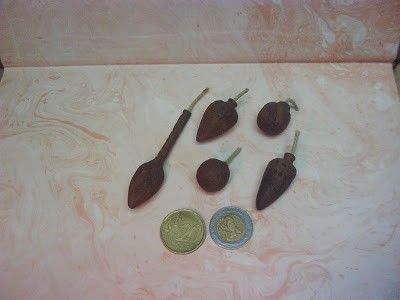 Image credit: Shipping and Maritime Blog, svmblogger. "Greek Fire – a Secret Weapon," November 19, 2012. https://svmshippingblog.wordpress.com/2012/11/19/585/ ; "Stronghold Heaven: The History of Greek Fire." http://stronghold.heavengames.com/sc/history/greekfire.
Gunpowder
Gunpowder is another substance of mysterious origins. It works on the idea of rapid oxidation, that is, combustion of carbon to create an explosion that can take place in a closed chamber. The ingredients of gunpowder are ground charcoal, sulfur, and saltpeter. Saltpeter, or potassium nitrate, is the oxidizer. It is a white, crystalline, organic chemical—a byproduct of animal dung. It can be mined in ancient bat caves or bird dung piles as the substance called guano. It can be produced by composting animal dung for about a year. Saltpeter + Carbon + Sulfur = Gunpowder. Gunpowder explodes because the nitrates in saltpeter release oxygen when they are heated, even by a small flame like a match, or by a spark made when metal strikes flint (a stone used to make fire). Oxygen from potassium nitrate causes the carbon and sulfur to burn in a quick chemical reaction—an explosion. Most important for weapons, gunpowder burns in a closed place like a rocket tube or the barrel of a cannon. Gunpowder may have originated in China, or may have been developed independently in the Middle East, but it was certainly present in the eastern and southern Mediterranean region by the time of the later Crusades. Handheld cannons (guns) were shown in the famous 13th century book on warfare by Hassan al-Rammah, Kitab al-furusiyya wa al-manasib al-harbiyya [Book of Military Horsemanship and Ingenious War Devices] (1280), edited by Ahmad Yusuf al-Hassan, University of Aleppo Publications, 1998.
Rocket Technology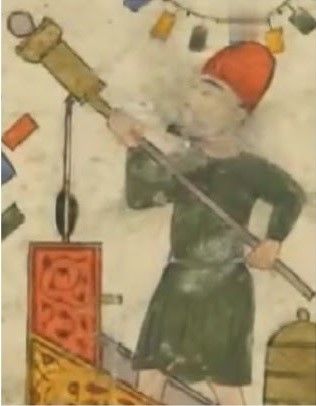 Rocket technology was another use for gunpowder. The left image shows a rocket model like a torpedo from the Crusades period that is featured in the Smithsonian Air & Space Museum collection in Washington, DC.
The concept was to place a combustible substance in a formula similar to gunpowder in a closed brass vessel shaped for propulsion through water. It could be used to attack ships below the water line. This design was also featured in Hassan al-Rammah, Kitab al-furusiyya wa al-manasib al-harbiyya [Book of Military Horsemanship and Ingenious War Devices] (1280), edited by Ahmad Yusuf Al-Hassan, University of Aleppo Publications, 1998.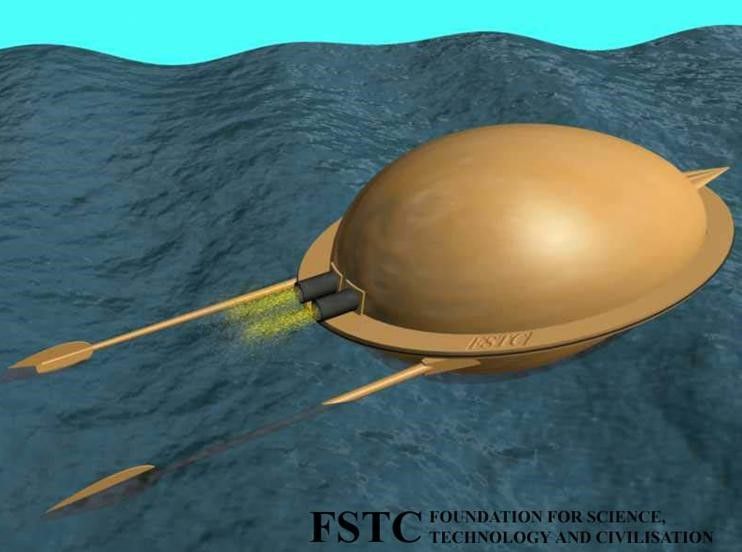 Image credit:
"Muslim Rocket Technology | Muslim Heritage." Accessed December 17, 2017.
http://www.muslimheritage.com/article/muslim-rocket-technology
.
Recurve Bow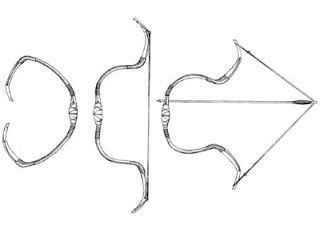 The Turkish composite recurve bow was made of wood and horn that was laminated, or glued together. Its string was animal sinew. The bow got its power from the fact that when it was strung, the "C" shape was reversed as shown here, storing a great deal of energy to release into the arrow. It was light but more powerful than the much larger longbow made only of wood. A Turkish innovation, it was exactly suited to rapid advance cavalry. Together with the stirrup, a mounted archer could ride hands-free and shoot a succession of arrows. A large group of mounted cavalry could unloose a hail of arrows on their opponent.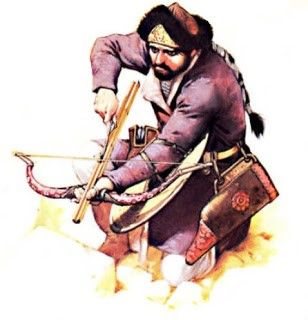 A modification of the composite recurve bow was to add a majra, an arrow-guide of wood that would allow it to shoot compact darts rather than arrows.
The wooden channel was looped onto the archer's hand and the dart was placed in it. Only the dart was released—faster than an arrow and often invisible as it went through the air, making it a lethal weapon.
A soldier could carry twice as many darts as arrows with the majra. The majra allowed mounted cavalry to use a light bow like a heavy crossbow, and fire rapidly from horseback. It also worked during sieges from within and outside the fortified walls.
Image credit: "Defence and Freedom: Exotic Ancient Weapons: (I) Majra." Defence and Freedom, April 8, 2011. http://defense-and-freedom.blogspot.com/2011/04/exotic-ancient-weapons-i-majra.html.
Siege Engines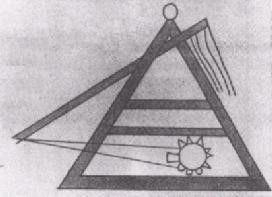 Siege engines were used to hurl explosives or bombard fortifications. In Roman times, catapults were known that used lever technology to throw heavy weights. In the seventh century, various forms of missile throwers using traction, counterweights and bearings became known to Muslim military engineers, probably from China via Central Asia. The image from the Chronicle of Petrus de Eboli (ca.1180) shows soldiers using recurve bows and crossbows, and also shows a traction trebuchet being used. The mechanism used a single post supported by braces to the ground. On the top is an axle on the pole which would allow the trebuchet to rotate to aim in different directions. The soldier holding the sling in which the missile was placed also helped determine its trajectory by bending the beam and giving it more power. These innovations are described in Arab writings such as the diagram of a traction trebuchet in Hasan al-Rammah (ca. 1285), which may illustrate an incendiary bomb of clay containing Greek fire.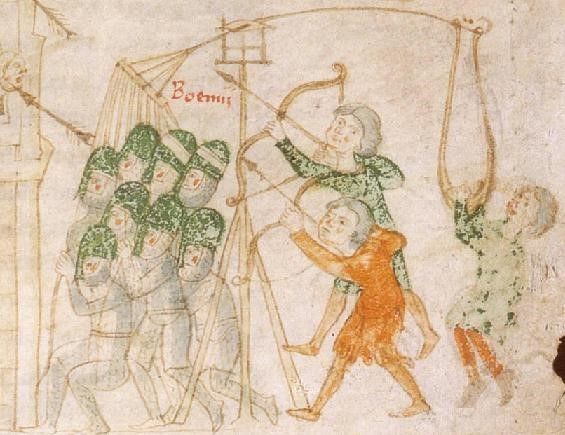 Image credit: "Historic Traction Trebuchet Illustrations Pt 1." http://members.iinet.net.au/~rmine/htt/htt01.html.
References
1 Ernie Bradford, The Sword and the Scimitar: The Saga of the Crusades (Milan: G. P. Putnam's Sons, 1974), 102–3.
2 Archives of Pearson Scott Foresman, donated to the Wikimedia Foundation. An illustration showing an object being dropped from a machicolation that is supported by stone corbels: https://en.wikipedia.org/wiki/Machicolation#/media/File:Machicolations_(PSF).png.
3 Will Wyeth, Eis Tēn Polin (blog), March 29, 2010, http://eistenpolin.blogspot.com/2010/03/what-technological-advances-in-warfare.html?view=magazine.